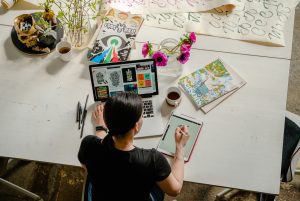 You always hear the Internet you can work from your Home or any place, you ask yourself How? I want to summarize in this article the way Somali youths understand and how the situation is. People who have benefited from online understand that after a long time, these points that I have brought to you, if you combine effort and follow-up, you can definitely succeed in several online projects.
Stop getting rich one day
When a person is new to the Internet, he thinks that he will get income from the Internet within weeks and days, which is the heartbreak that happens to young people. In Somalia, every project he starts, he leaves nothing but that is the urgency of planning everything, effort and time, always know that.
Baro skills
There are so many careers to choose from on the Internet, so it's up to you what you want.
Blogging
It is a skill that does not change, that is, once it enters the market, it does not go away from the time it started until now, and it is a source of income that you can rely on.
Forex
It is also the most popular skill in the world today. If you learn it, it is very useful when the world joined the currency exchange and it is still there.
Youtube
One of the places where Somalis have learned to make money online is YouTube. Every Somali knows how to use it.
For those who are constant
Most of the Youtubers who are explaining the same application make money from this website make money which is mostly 90% fake and a waste of time and this is what makes you confused about these new things in Somalia today.
Application ama Website
It is the biggest thing that Somali youths are asking. Tell us about the website and application that make money. Most of the time, some of them spend money and then burn the money. exist.
Sometimes a profit is found in a new example of SweatCoin. I have shown a live example, but I cannot predict its future because it is technology that can change.
In the middle of the day, Somalis also learned a lot when the scammer app CjOnstyle changed, which many people have made money from, and that is why some people rush to the air and send it to the air first. this investment.
Conclusion
So the general purpose of this article is that instead of looking for something temporary every day that will not continue, learn skills such as Blogging, Digital marketing, Web Design, and so on, which is exactly how you can do freelance work. can be done online. Apps and websites that other people have and many of them are nothing or scammers. Don't waste your time.
This is the advice I have added to this article. Thank you for your good work.